I spent the day earning my title as a domestic goddess and other happy list tuesday items...
for happy list TUESDAY!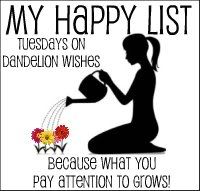 Today for dinner i made Baked Potato Soup. from scratch. (i'll post the recipe at the end.)
I also made homemade bread from scratch. it was overwhelming for a minute but ended up delightful.
I'm happy it all turned out fabulously, Happy the kids ate it , and happy i have lots left over.
I've been posting daily thankfuls on my FB Crazymama fan page. (see sidebar link) I like to think of a daily thing, it reminds me of how blessed i am.
I'm happy I bought some new jeans finally. it's been OVER a year. i linked up in my Wednesday post, so you can see the cuteness. and my butt looks just like the models.
I was super happy when my friend made an unsolicited compliment about my new jeans...
"Your butt looks great, I've never seen it showcased like that."
I'm happy today is over. I've had a long day.
link on up or list what you're feeling happy about in the comments.
have a fabulous day!
oh the recipe, i nearly forgot. I got it from my friend Jen. It's on her recipe blog.
Baked Potato Soup

4 or 5 Large Baking Potatoes
6 cups milk (I use 2%)
2/3 cups butter
2/3 cup flour
1 1/2 tsp Salt
1/2 tsp black pepper
1 cup Sour Cream
1 cup Milk Cheddar Cheese
1/2 cup g. onion
10 slices bacon, cook and broken in small pieces

Pierce skin of potatoes and bake at 400 for 1 hour. Remove and let cool completely. Once cooled remove from skins and break into bite size pieces in a bowl. Set aside.

In a large pot melt butter and add flour, stirring well with a whisk. Gradually add milk. making sure to combine well, add salt and pepper. Over medium/high heat bring to a low boil, stirring constantly let boil for 2 minutes. Stir constantly and watch so it doesn't burn (milk can curdle!).

Add potatoes, cheese, stir until cheese melts. Stir in sour cream and then the onions. Cook over low heat until soup is heated all the way through or put into crock pot and put on low heat. If you don't eat right away stir every 20 minutes or so or the cream may start to separate.

Top with Bacon, more green onions and cheese to taste.
© 2011 crazymamaof6