It all began with a random act of kindness, and now I feel really lucky to be hosting my first sponsored giveaway, by Willa @ Purse Pal .com . That really is truly delightful in every way!






this contest is for 3 random winners.
to win their choice of a "classic design" day size Purse Pal.

Here are the rules and procedures for the contest

1. you comment here one time.per blog you are willing to post on.

2. you go to your blog and post about this contest! and link back to me. crazymamaof6 or Truly Delightful in Every Way!?!
or just snag this blinkie to link back to this contest. (the code is lower in the post in a white box or there are instructions to adding it to a sidebar)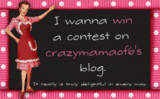 3. Post and tell all of your blog friends about the contest - telling why you think it would be fun to win the purse hook from Purse Pal. it can be about anything, like "i really need a purse hook to hold my designer purse off the ground when i go out." or something easy like, " i just like to win free stuff!" or "GOSH THAT PURSE HANGER IS SO COOL , I TOTALLY NEED ONE and have been wanting something just like that " while you are talking about it go ahead and link to Purse Pal.

4. THE CATCH? this contest is open to bloggers only. i know sad huh? maybe you should get a blog. any blog.

loop hole- if there are bloggers out there that can't handle only entering once, maybe your husband that blogs will enter for you and follow the contest procedures for you. So you have a better chance at winning. I'm just saying if that happened it wouldn't disqualify you or anything. (wink wink.)Or if you personally have 3 blogs you want to post on enter a comment 3 times and post on all of them. whalah! loop hole!

the contest will end Sunday, April 20th at midnight. the winners will be announced Monday April 21st.


I know it's different from before.I'm trying something new.

that is it ! SO EASY.

I just got my Purse Pal and had a chance to try it out, and remember, it holds a way bigger bag than you would think possible. it actually stays on the table and counter , which i admit i was skeptical but holy cow if it can hold my large purse/diaper bag and stay on the counter, it can handle alot. i was totally impressed. it is so small it fits in my wallet/clutch. and came with it's own pouch to hold it in.
Did you know that Purse Pal supports fabulous charities or causes. $5 of every single purse pal or $10 of the combo set price goes to the Charity that correlates with the one you pick.
there is the list of the beneficiaries
here.
YOU KNOW , YOU WANT TO WIN! DON'T YOU?
below are some instructions on how to link( in blogger). if you already know how,
comment and get posting. what are you waiting for?
_
I know there are some friends out there new to blogging not sure how to do a hyper link. everyone had to learn sometime. I'll tell you how. so no excuses you can do this! and if you really need help, you can email me. it's on my side bar. Or if you know me in real life, you can totally call me.
there are a couple ways.
you can either highlight one of my hyper links and copy and paste it into your post .
(you right click on the mouse and choose copy. then go to your post and right click again and pick paste)
OR
the real way to link in blogger anyway IS you highlight the word or words you want to make into a link and you click on the green link symbol at the top of the blogger tool bar. (between text color and align left.) a pop up box opens and you copy and paste in the the URL you want to link to. (you find the URL at the top of the screen in the navigation bar it starts with http:// and ends with .com)
or just copy my URL here
http://crazymamaof6.blogspot.com

and for Purse Pal's URL
http://www.purse-pal.com
~

to snag a blinkie? you can copy this code and paste it into a post-

select the properties option- which brings up a pop up box with the info for that blinkie, it ends with a gif

highlight the URL and copy
then go into blogger layout add a page element section
pick add a picture then paste the url into the from the web box
paste in the url into the box
check the box to shrink to fit
whalah! blinkie added!
now you can move it up and down on the side bar like any layout addition. whoohoo!
it's super easy so just do it!
an extra fabulous thanks to
Janna
who made my fab blinkie and the code for it! SHE has some MAD SKILLZ! thanks a ton for all your help!