as most people heard (i heard it over and over on Facebook of all places) yesterday 3 celeb icon's passed away . Ed McMahon, Michael Jackson, and Farrah Fawcett.
some people were going to wear a white sparkly glove. in Tribute to Michael.

and i decided to Feather my Hair.....in Tribute to Farrah!
as evidenced here in my new FB profile pic.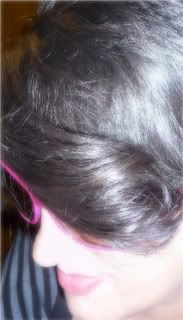 here's an unedited picture. and do you see the wonder of my Tan line?
HELLO WHITE halter strap line. tan chest, tan back. white shoulder. NICE!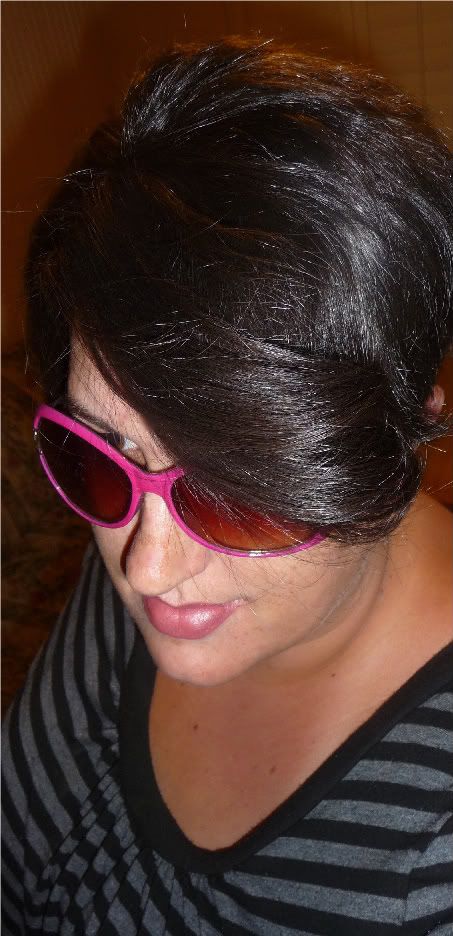 i have to confess that i had no idea how to go about Feathering my bangs. that was admittedly before my time. and well, i find the style less than flattering .

but i was committed to sporting the look for no other reason besides paying tribute to the late Charlie's Angel and taking a picture.
so. i attempted using a round brush and a blow drier. but it didn't give the right effect. Then i rustled up some Hair spray and a curling iron and went to work curling it up and out. (which i've never done before) hello not fabulous. when i had it all curled i combined the hairspray, and round brush and blowdrier technique for this finished product. it's as good as i get .

instead of putting make up on, i went with my over sized sunglasses. and lipstick. for the picture.

yup. fun. and there we complete my feathered transformation. my boys were pretty confused as to why i'd do that to my hair.

QUESTIONS FOR YOU!

so how are you coping with the loss of such celeb Icons?

anyone sporting one white glove?
have you EVER worn Feathered bangs?

! admit it, you perfected your feathering technique.

Can you tell me how you did it?

Will you post a pic on your own blog and let me know so i can see it? pretty please?

OK have a Fabulous Friday.
we have movie fun, and it's pay day. so i'll be spending money like water again. i mean catching up from a week low on funds.
and i took this just to see which Michael Jackson song i am... and i don't think i've heard of it. i must check it out.

You're happy go lucky, and like to dance a lot!

here it is....



© 2009 crazymamaof6