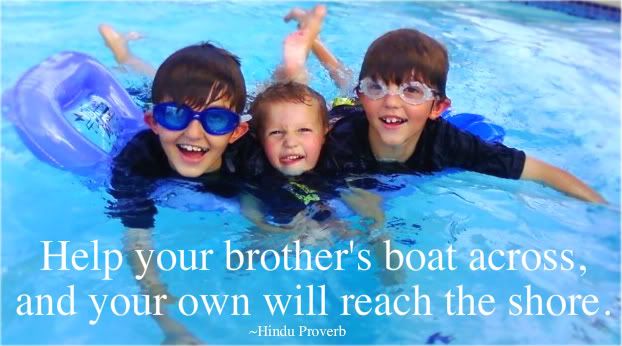 this pic was taken during a rare moment of friendship between my boys. on one of our many trips to the pool. Pierce loves to hang out with his big brothers and they like to help him.

today is not one of the days they are smiley and happy to be brothers. a couple of them fight more than other siblings. constant competition for the same things causes some major issues.

it wears on me.

if only the moments of friendship weren't so rare.

~~

My mom brought some Tomato worms over today. it's VERY EXCITING!

i'll take pictures later. and maybe we'll catch their dance on video.

the kids are IN HEAVEN!

who new little pests could be so exciting?

we are very scientific.

last summer we watched the life cycle of a corn worm. we even had it turn into a moth and flying away. yeah that was cool.
~~

and FYI don't cut a Jalapeno and leave it in the fridge in the baggie within reach of a toddler. he licked that sucker all the way down the length of it. and came crying about a burning tongue. i got him a cup of milk. then picked it up . washed my hands and sat down at the computer. i was dumb enough to itch my nose and rub my eye. and WHAHLAH! feeling the burn. YOWZA! it was rather unpleasant.

lesson learned. fresh Jalapeno is not my friend.
but it did make some ROCKIN' Salsa today and some freaking RAD homemade Guacamole!
i hate to brag but i've got some MAD skillz.

and we are off to go swimming again . WHOOHOO!

© 2009 crazymamaof6