1. i baked brownies @ midnight . after eating one i started to feel slightly puketastic so i chased it down with a salad. i MUST ALWAYS balance the sweet with some salty or at least less sweet.ALWAYS! that's why my favorite quote "Life is uncertain eat Dessert first!" makes so much sense to me!


2. do you ever look at peoples facebook pics and think, "WOW they have HUGE foreheads!" or "seriously? that's the picture you picked?!" i'm not saying i think that, i just wondered if you did? spill it! you know you do!
3. sometimes i feel like a stellar example of mothering. like when i cook the actual dinner for the kids at 10pm. STELLAR! (by the way they weren't hungry before that, they had pizza at 5:00. i find if i wait long enough they eat way better than offering food on a normal schedule, they often opt out of what's offered. this way they are always hungry enough to eat it.

4. sometimes i think kids get what they deserve. like a black eye on a little brother from an older sister (for whacking her with the broom.)
i kind of hope he learned his lesson. i might take pics as it gets darker, it's gonna be a nice shiner.

(you can't tell as well in black and white but see the part where it broke the skin and bleed while it swelled? sad)
Joy said i should "go out and buy that kid a steak to put on his black eye"
5. I super love playing Guitar hero and Rockband with my kids.

Peyton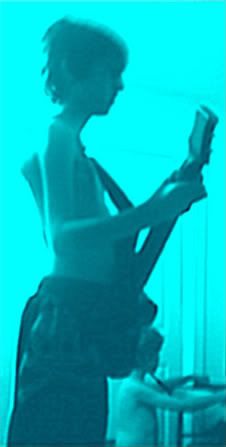 seriously love love hearing Liberty singing MISERY BUSINESS by Paramore.
it's good family fun.
we just have to remind Joy not to sing the A-word when she sings New kid in school.

but she announced tonight she's gonna cuss all she wants when she's a grown up.

that one makes her own rules.

6. i could do without getting nailed in the head with a mini football. Pierce needs to remember to say,"mom, catch!"

7. the hubs loves me. wanna know how i know? he bought me a WHOLE CASE of this chapstick. Now that is LOVE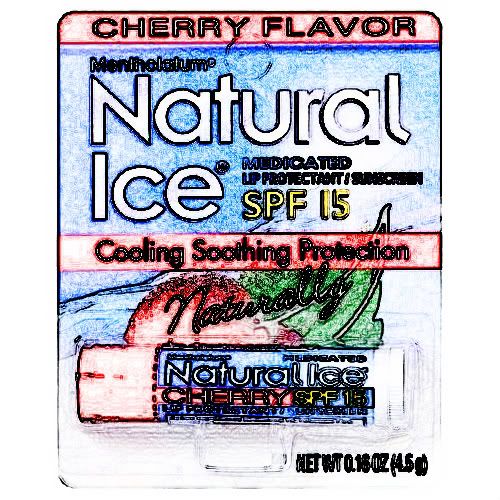 8. I can't kick the whole thinking in facebook status mode. and what is with the whole

FACEBOOK FRIEND... IS.... (and that's it?) does that mean that person just is? or does is secretly mean they are "droppin' a Deuce" ? hmmm maybe they've got the runs and that is code for they are facebooking on their cell while doing it. like FACEBOOK FRIEND IS...(FACEBOOKING WHILE SHIZZZIN')

a little something to think about there huh?
admit it, you are so gonna giggle the next time you see someone post that as their status.

if you EVER see me post (Crazymama is...) you know what i'm doing. ;)
9. currently my favorite place to go is this super secret super-delish custard and burger place ! i'm slightly addicted. the girl at the drive thru recognized me from the weekend. 3 times.

only 3 times EVER and i'm getting recognized as a 'regular'! what is that about? i only got a burger once. Sundaes the other 2 times.

10. the other day i went to the grocery store and no less than 7 employees said hi! and/or can they help me? it's hot out there talk! then 4 other random people shopping kept smiling at me and saying Hi and/or discussed the heat.

It made me wonder if i had toilet paper danglin' , or if there was something weird about me that made people take notice and SMILE.
usually i assume it's my considerable cleavage making customers and employees alike stare and smile. but sometimes i wonder if they are thinking "HOLY CRAP! that lady! she's so unfortunate i can't help but smile and chuckle at her."

it could happen. maybe that's exactly what they are thinking, you'd tell me right? if that's what people thought of me? you'd tell me in a nice way though right?

the hubtastic's theory was that i put off this friendly persona and people like that so they are friendly and nice to me.
of course i lean towards they must be mocking me and find me horrifying and grotesque. (true)

11. I changed my comment form check it out and while you are there checking it out, leave me a comment why don't ya?! please and thank you!

12. I'm ALREADY thinking about the school talent show for this year,

thinking wouldn't this child... Joy, be adorable

singing POPULAR from Wicked
(it's the first song on my playlist, click on it and take a listen if you don't already know it and love it)

i can just imagine the wonder. i also think she'd need private Voice lessons to achieve that , I'm considering it. what do you think?

and this coming from a mom that resists all participation in extracurricular activities.
sheesh 13 randoms are hard to scrounge up. in the middle of the night.

13. how about a playlist tidbit? i ate a brownie so i searched for brownie in the search bar on Playlist.com. then i searched for salad. both odd search words had multiple songs.

Pierce enjoyed and started dancing to the Brownie smile song from the girl scouts. so it got added.

then Fruit salad came up from the WIGGLES! So, it got added too.
Just in case you end up listening to either of those, you know why.

QUESTIONS! FOR! YOU!

what is the craziest search word you've looked up on

playlist

.com? did it have a song?
are you a participant in school sponsored extracurricular activities? or do you resist?
do you consider yourself insecure? should i feel insecure?

is there anything that makes you feel like a less than Stellar parent?
so hope you are having a superfabulouso Thursday!
P.S. i slept in my bed with 4 kids. it was CROWDED. i woke up around 10:30.
Joy woke up and rolled over and said,"oh it's 10:45 i better get up!" somehow i find that hilarious. i wanted to just lay in bed and watch noggin.
OH and i lost my voice. it was weak anyway from guitar hero the other night, but i played again yesterday and sang, then i sang along with my playlist all evening while typing this post . i'm screwed. my voice is gone and People are running wild and can't hear me when i yell. Fabulous!
© 2009 crazymamaof6