i don't love going grocery shopping and haven't been keeping up with the needs of the family shopping.

lately i've been leaving it to our date night on Saturday nights shopping with the hubs. in case it has never occurred to you, grocery shopping for this size family isn't a small endeavor. sometimes , i really don't enjoy it and often avoid doing it.

i analyzed why that is today.

1. if the hubs is with me he does all the heavy lifting into and out of the cart. he also hauls the heavy stuff into the house while i put the rest of the stuff away.
2. if i go it's usually in the middle of hottest part of the day, it's hot driving there, and hot loading the crap into the car, and hot hauling that crap into the house. and even though there are 7 other members of the family home at that time of day. i get to haul the majority of the groceries into the house by myself. leaving me damp , cranky and tired.
3.if i go late at night, the same thing happens because the hubs is never dressed when i get home in the middle of the night (if he's even awake) leaving me to haul all of it myself. and me putting 20 bags of groceries away all by myself.

speaking of going shopping, today i left midday to procure groceries, alone to the store up the street.....
the hubs was working in the office, the big kids were supposed to supervise the little ones. it was just a trip to score a few basics.
i was gone less than 15 minutes and came home with a cartload of stuff. (and yet this was a small quick trip)
i also got beverages and Ice at Happy hour.
i came home. announced the need for help and only 1 useful kid (and Pierce) came and carried 2 bags in. the rest of the kids were nowhere to be found. the hubs was on yet another call. (he's always on the phone)
i went back and forth from the car to the house hauling multiple bags no less than 5 times.
dripping with sweat i discovered what Joy was talking about when she called frantically telling me about little kids dumping stuff out in the family closet/dressing room.
they dumped 15 bins of clean-sorted-organized-folded-kids-clothes on the FREAKING floor, and then they mixed it up .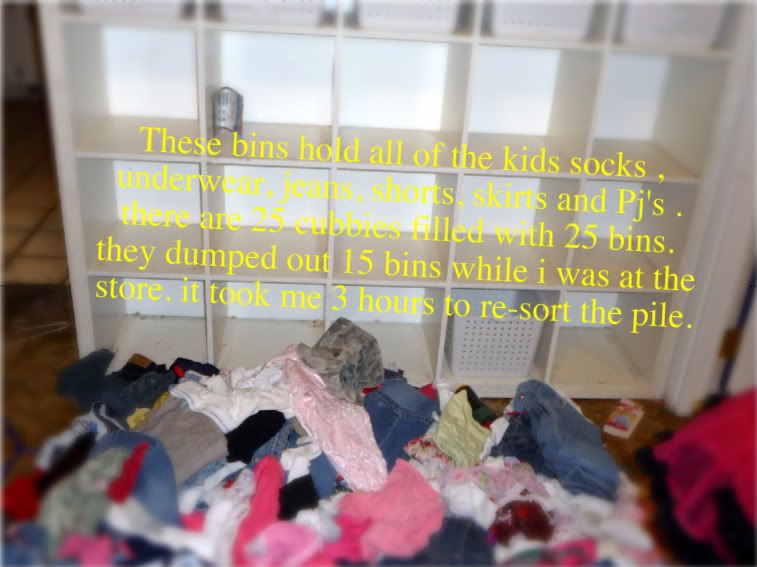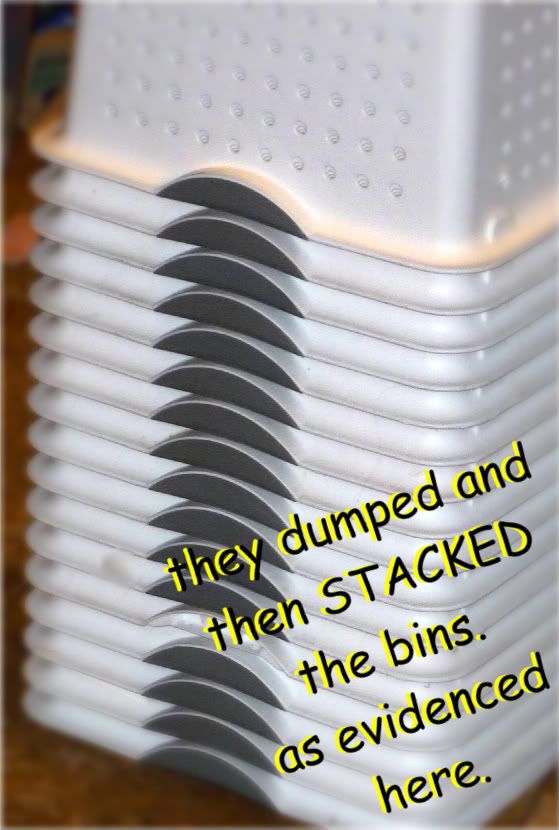 i was hot. i was dripping from the AZ heat, frustrated with my family for leaving me to be the packhorse.
adding the disaster on top of it.
i lost it.
there was
sobbing
coming from somewhere,
oh wait that was me.
the kids had to come see what was amiss. they gawked and looked concerned.
there were whispers that mom lost it.
yelling wouldn't do any good. they already got lectured by dad. but i yelled anyway. and may have screamed a little.

i had a breakdown.


i cried
the ugly cry
while i attempted to get a grip on the issue.
harsh words
were exchanged between adults.
it killed me that 10 minutes of grocery shopping

lead to 3 hours of work putting it all away again.

it was a very therapeutic cry-fest. (apparently i didn't get my fill when aunt flo visited last)

i did make the best of it, I made Liberty try on all of her jeans, shorts, skirts etc. and we purged 16 items from her bins . leaving roughly 36 assorted bottoms to pick from.(and that was just the clean clothes who knows what lurks in the dirty pile)
I re-sorted kids underwear, socks, jeans, Pj's etc.

this little experience has me living in fear of going BACK to SCHOOL and leaving the little hellion to be "supervised" by dad with no one here to keep him from destroying stuff and making more work for me.
it left me feeling like sometimes my life super sucks.
side note- while i was sorting, and putting away all the socks
i decided
socks are disposable
.
i made the mistake of voicing that within earshot of the hubs in the office.the hubs didn't think that was such a great idea, but said he could definitely see why i would think that.
i deserve a prize for doing my job sometimes.
especially
today as the mom.
holy heck MY FREAKING SHIFT IS OVER!
and that my friends is why i don't go grocery shopping.
what do you think?
I've got questions, you've got answers....
how do you feel about grocery shopping?
what do you think about socks?
what would you have done in this situation?
cry? cuss? beat people? leave and never come back?
have a delightful day. i hope your day went better than mine did.
and i did recover and end up with a decent day. i probably yelled some more. and i may have refused to cook dinner or change diapers. but seriously, why is it that it's still my chore to clean up when i didn't make the mess, and i wasn't here to prevent it. COME ON!
© 2009 crazymamaof6