I finally found Time for a tuesday Happy List...
I'm happy I have this guy to keep me company during the day.
I'm happy the hubs and I went out on Saturday night and I got my seasonal favorite PUMPKIN CHEESECAKE! love it.
It was our 15th anniversary of dating, we've been dating for 15 years. He thinks it's ridiculous i have always counted it, but whatever. there were a few years there we barely dated (with all the little kids and no built in sitters and limited funds) and i'm happy we are back to dating on a regular basis. ;)
I'm happy the hubs and I go out together every weekend (usually twice and sometimes for lunch too). it's honestly all that gets me through the week.
I'm happy I had time for a little at home productivity today. there are days i just don't get any time at home to even attempt a load of dishes or laundry. it's a nice change when i do have time at home and not spending every minute in the car or in dentist or dr's offices.
Look i have a new helper with unloading the dishes.
This does not however make me happy one bit, little turkey is growing up too fast for me, but i am happy he's healthy and strong and happy all the time.
don't look too closely at the floor because....
I'm happy the maid is coming on Thursday.
I'm happy i had a minute to post about what's making me happy these days.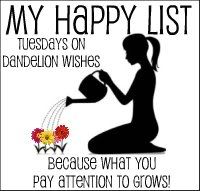 © 2011 crazymamaof6