Happy I went to lunch with a friend. She has excellent taste in music and she's divalicious like me.

We went window shopping after lunch. And it was fabulous too.

Happy my new laundry system idea is working so well. (I might tell you about it someday if you are lucky).

Happy the hubs is home all week.


He's the reason My system is working because he's home doing laundry while I do my usual taxi service so laundry is still getting done even though I am never home.

Happy I found a minute to bake today. I'm a banana bread virgin no more. I'll be super happy if it turns out.

I'm Even happier still I let liberty help so she can do it by herself sometime. I am training a fabulous personal assistant.


i'm linking up with mamarazzi.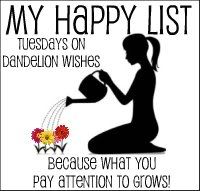 Published with Blogger-droid v1.7.2