I've been wallowing since last Wednesday. it's not a happy thing. i cried more about this than i did about having cancer , over something i want soley for my vanity. I thought about posting about it. i still might but I'm tired of wallowing.
after a little retail therapy and some time to reflect on my priorities I'm ready to move on,
so here is my happy list.....
I'm happy we went on a mini staycation with the herd and the hubs and my favorite brother and his family this weekend.
best part about it for the kids was the adjoining rooms.
I'm happy it was super cheap and the hotel was free because we used points from the hubs frequent hotel stays. it's the upside to the hubs being gone all week, every week.
I'm happy we are planning another fun trip soon.
I'm happy about October break this week. the kids and I have fun stuff planned. a zoo trip. playdate at the park with friends. they all went to the dentist today and I'm happy there isn't TONS to do on their treatment plans.
I'm happy I've gained a little perspective about where my priorities are.
I'm happy that something new and exciting is being announced tomorrow on the blog. and NO, i'm not pregnant.
what are you happy about this week?
Click on the button and link up with mamarazzi! it's almost as much fun and therapeutic as retail therapy.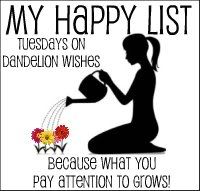 © 2011 crazymamaof6