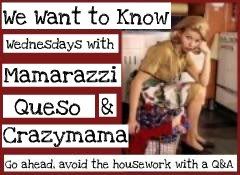 even though i'm guessing this week will be a total link party dud, with everyone in a holiday rush, we are still playing , We want to know Wednesday! (it didn't help i spaced on coming up with the questions in time to get them out) so Mamarazzi came up with the list 5 idea.
list 5 things....
they can be
A. What you want for Christmas?
B. What you have to get done before the holiday?
C. Your Christmas traditions?
D. 5 favorite Christmas songs? (post a video and you score extra cool points.)
I'm going with D. 5 favorite Christmas songs (in no particular order.)
1. last christmas- wham-
2. Christmas Wrapping- The Waitresses
3. Do They Know It's Christmas- Band Aid-
4. Wishlist- Neon Trees-
5. Straight No Chaser- The Christmas Can-can-
and a bonus- because i super love it. The Hanukkah Song- Adam Sandler-
All posts for We Want to Know should include:
1. The darling WWTK button
2. A link to your co hosts Mamarazzi, Queso and Crazymama
Links must lead to WWTK posts that contain the WWTK button. Posts should lead to Family Friendly blogs. Blogs containing explicit language and/or sexually explicit content should contain an "adult content warning", or risk being removed from the link list. Kthanks!
© 2011 crazymamaof6