Fathers day! i figure to be fair i should totally confess the events of the day right?

i will say it's not a holiday i hate. (not like mothers day) now how is that?

yeah i don't really know, but i know it's not at all about me and i have no expectations other than showing the hubs we love him, so i'm into it.
i try extra hard to make it good every year.

that and we have limited family obligations since we don't really associate with our dad's .
*(you did see the whole homosexuality long enough to sire me E-card on Saturday right? scroll down, check it out , yeah that's why)and his dad? well, there are other reasons on his side but suffice it to say, fathers day is way less of a drag, just because we have way less people that truly deserve to be celebrated.

so other than phone calls , we are good to just chill at home and savor the day and really it's all about the hubs and he deserves to be celebrated. i like to do it.

-i plot and plan, and shop ahead.
-i plan menus and cook special meals that aren't my personal faves.
-I take kids shopping even though that ALWAYS comes back to bite me.

-we craft sometimes.

-he gets to sleep in.
- if he wanted to ditch church i'd be on board.

really what's not to love?

so today.....? i feel like i fell short of my plans. but still it was mostly a fabulous day.
i think?

do you want the details?
he slept in. i got up early to run off the children that were planning surprises. (like eggs and cinnamon toast. they did pour him a cup of Diet coke.)


and i wrapped the gifts he received for Fathers day. yeah clothes. he needed some new shorts. and some shirts. and i was going to get a wallet by my shopping was cut short(the story is here in case you missed that). so he'll get that when i hit the store again. and i find the right kind.

then the kids crafted drawings on brown paper bags . yes we did it was a card and wrapping all in one. so the kids could wrap all of dads candy. they each gave him a full size bag of his fave kinds of candy. (lots of fruity sour crap)
then we finally woke him up around 11:45 (because my mom was coming at noon to help get people ready for church and go with us) so we presented him with breakfast which was an array of danish, and donuts and orange juice and diet coke. and he opened his loot.

we showered. and then got kids ready for church. while i was hunting for clothes for the kids, my mom swept my disgusting dining room. then she helped with hair .

while i did hair. I curled it even. it had to be cute today because the 3 oldest kids were singing in sacrament meeting with the other kids in their classes. yes. out of 20 something kids in 9,10, and 11 year olds. i owned 3 of them. the boys didn't want to sing. but Liberty was cool with it. we even went to a practice this morning. and Pierce tagged along in his diaper. OH YEAH feeling classy. (side note-the lady doing it, asked if i sing, and wondered if our family would sing sometime at church, ha! the kids didn't help and said i sing all the time at home)
then, we made it to church before it started! that right there has never happened in my adult life. ok so maybe once we made it right after the opening prayer but usually we are there after the sacrament. yes we are RAD! it was a father's day miracle.

we did pretty ok for the most part. with the exception of Pierce. he made 3 runs for the stage. once he came back and 2 times i got to chase him, once even going on the stage behind the freaking curtain and grabbing him. (clomp, clomp, clomp) that was glorious!
(oh then the lady and neighbor sitting in front of me tells me i should join the choir, nothing good comes from sacrament meeting i tell you)

the last hour, i went home and mopped the dining room and did the dishes. THIS WAS HUGE!
the dining room is RAD! and Lance really appreciated that gift of service.

really he said he was stoked because he wouldn't have to do it. but he doesn't do it. EVER. even when i said i wanted that for mothers day, so whatever. it's my job. i finally got it done. and it is awesome. i marvel at my shiny floor. we'll see how long that lasts? care to take bets?

i made it back to pick up the family. and we came home and started on dinner.

Green chile chicken enchiladas. (see i wanted Barros on mother's day because then no one had to cook) Lance likes service so he was stoked at the gesture. and his favorite meal.

except, he ended up making the enchiladas (this is where i felt i came up short on the whole fathers day celebrating). while i chopped the homemade salsa. i really didn't know how I'd get them made and the salsa chopped too. since i didn't do it in advance.

it worked out. and he didn't care. and now he's got a new skill, because he'd never made them before. it was his first time. we only had one issue with too many layers and not enough sauce but that was easily remedied by whipping up a whole extra batch of sauce and now we have an extra pan of enchiladas. it's all good.
dinner was delightful. we were so full we didn't even eat the dessert, which was brownies Liberty made, with Ice cream.

then my mom took the 3 girls home with her to sleep over.
Lance went down and played video games with the boys all evening and i went and laid down and napped from 7:30-11. (my back is out and has been pinching for 2 days) even after adjusting it, i still can't take a deep breathe. OUCH!

anyway. he seemed to think it was a good day anyway. (even though i didn't actually make the main course , and i took a nap.)

next year I'll try harder. and maybe make the enchiladas in advance.

we didn't take one picture. i offered to take one of him and the kids after church but that's not his speed. whatever. it's all about him, so it didn't surprise me.

So that's the story of our Fathers day.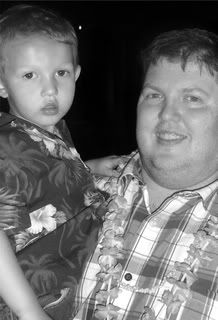 i hafta say i'm glad he doesn't have the expectations that i do. we are all aware there is a double standard here. luckily he's easily satisfied with a little service.

i have to say the dynamics of the holidays (mothers day VS fathers day) are totally different. i'd list it, but that might get me in trouble. maybe i'll save that for another day.

and the picture is of the hubs and Pierce at the Luau party last week.

© 2009 crazymamaof6